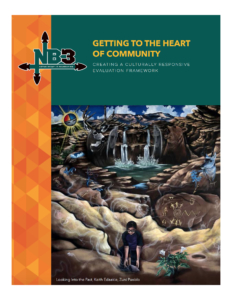 The Notah Begay III (NB3) Foundation is excited to announce the release of its new report,"Getting to the Heart of Community: Creating a Culturally Responsive Evaluation Framework." This report presents a process for Indigenous communities and organizations interested in designing an evaluation framework that prioritizes their own values and objectives.
"A primary goal of this report was for it to be another helpful resource for Indigenous communities working to create an evaluation methodology that responds to and reflects their community's needs," said Renee Goldtooth-Halwood, NB3 Foundation director of evaluation and research.
The report tells the story of how the NB3 Foundation and Zuni Youth Enrichment Project (ZYEP) built on current Native-led research and the NB3 Foundation's Indigenous Health Framework to strengthen ZYEP's current evaluation process. Over the course of eight months, through a series of gatherings and meetings, the NB3 Foundation and ZYEP teams worked through the Indigenous Health Model to: 1) develop outcome statements at the community level with indicators for cultural connections; and 2) examine ways to define and measure successes that are significant to Zuni.
"With children at the center, ZYEP utilized the Indigenous Health Model as a guide to be inclusive of inter-generational voices when keeping track of what matters most to them," Goldtooth-Halwood said. "In the report you'll see the challenges and opportunities along the way, and the love, patience and dedication ZYEP has for the youth and families in their community."
"NB3 Foundation's Indigenous Health Framework showed us how to bring Zuni community leaders, parents and youth together in a collective effort to promote the health of our youth participants," Executive Director of ZYEP,  Joseph Claunch, Ph.D. said. "This project has been a source of inspiration for our team and continues to provide us with a model for culturally responsive youth development . We are thankful for NB3 Foundation's leadership in the field of Indigenous Evaluation."
This report also shares with communities and funders key offerings to reclaiming Indigenous evaluation methodologies, and highlights the importance of respecting and valuing these methodologies and outcomes.
The NB3 Foundation understands communities are not homogenous, differing in culture, governance, geography and priorities. Therefore, we invite communities and organizations to review this report utilizing the tools and recommendations that make sense to their evaluation journey.
DOWNLOAD report here! 
This report is supported by a grant from the Health Impact Project, a collaboration of the Robert Wood Johnson Foundation and The Pew Charitable Trusts. The views expressed are those of the author(s) and do not necessarily reflect the views of the Health Impact Project, The Pew Charitable Trusts or the Robert Wood Johnson Foundation.
About Zuni Youth Enrichment Project
The Zuni Youth Enrichment Project (ZYEP) believes cultural connection and expression are essential to community health. Since our inception in 2008, we have cultivated broad community support, developing close partnerships with Zuni: youth, families, Tribe, artists, cultural leaders, school system, health organizations, businesses, and other partners like the Notah Begay III Foundation to offer innovative programs to thousands Zuni youth free of charge. Through a culture- and evidence-based model, ZYEP has developed a series of year around programs that include summer camps, after school programs, and sport leagues that aim to improve the health of Zuni youth and give them a deeper connection to Zuni traditions. ZYEP has also learned that healthy youth need access to spaces that can support healthy activities. To this end, ZYEP has developed 50+ miles of walking trails, eight community gardens, and recently opened a state of the art youth center and park in the heart of Zuni's main village. Learn more about ZYEP at: www.zyep.org
About the Notah Begay III Foundation
The Notah Begay III (NB3) Foundation is a national, award-winning Native-led nonprofit dedicated to improving Native American children's health. Each day, thousands of Native youth wake up facing significant health challenges and barriers to living full lives. The good news is that most are preventable and together we are changing this reality. NB3 Foundation is changing the lives of Native American children by supporting and funding Native-driven, culturally centered programs and by providing direct opportunities for Native youth to live healthy, active lives. We believe that success must be driven at the local level and focus on holistic prevention, including child, family and community. To learn more about the NB3 Foundation, please visit at: www.nb3foundation.org
/wp-content/uploads/2019/11/nb3logo.png
0
0
NB3 Foundation
/wp-content/uploads/2019/11/nb3logo.png
NB3 Foundation
2020-12-10 20:57:11
2020-12-11 15:45:45
NB3 Foundation releases new Indigenous Evaluation report