When the pandemic hit in March none of us quite knew the extent of the situation. We quickly went from the expectation of having to work from home for one week while it blew over to working at home for months with no end in sight. As so many of us have shifted our lives and work to cope with the effects of the pandemic, we knew that at the NB3 Foundation we needed to support one another any way that we could. Afterall, we are a #NB3FAM.
That's when our Wellness Committee stepped in to help support the health and well-being of our staff.
After a few brainstorming sessions, we knew we wanted to bring our team together via video chat as often as we could. Even though it was over the computer screen, we knew it would be better than no interaction. After all, we are a fairly  small organization – about 15 full-time staff- so we are very close knit and are used to interacting with everyone on a daily basis.
So, we decided to host Wellness check-ins, three times a week!
The check-ins were in the mornings and were a way we could help one another get a positive start to our day. Each day would consist of an activity focused around our mental, physical or nutritional health. Some days were self-care days and focused gratitude journaling, mediation, goal setting or a quick morning yoga session. It was awesome to get a glimpse into each other's quarantine life. It's true, we really are all in this together, and being able to connect with one another three times a week and NOT focus on work, was therapy on its own.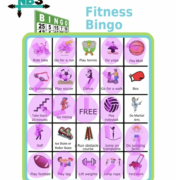 So now, as the world starts to slowly reopen, our team is currently on a hybrid-schedule. We all work two days in the office and three days at home. Our wellness check-ins have since been transformed into monthly check-ins. In June we had a BINGO fitness challenge, and we just finished our July Mileage challenge. As a team we clocked over 950 miles on foot and bike!
As we continue to make health and wellness a priority for our team, we challenge you to do the same! It doesn't take an official "committee" to reach out to your fellow team member to check in on how their doing, or to schedule a quick zoom sip and chat with your staff. You don't even have to meet up via video chat, just send a quick calendar invite to all staff for the same time each day as a reminder for them to take 15 mins to focus on themselves.
Together we will come out of this stronger.
/wp-content/uploads/2020/08/IMG_3633.png
3024
3024
NB3 Foundation
/wp-content/uploads/2019/11/nb3logo.png
NB3 Foundation
2020-08-06 19:51:50
2020-08-10 20:47:09
#NB3FAM keeps health and wellness a priority during pandemic